December 14, 2020
Freaky 2020 720p 1080p AMZN WEBRip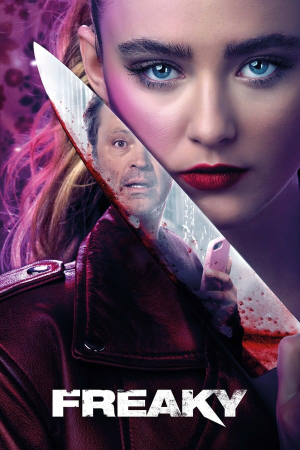 Director: Christopher Landon.
Writer: Christopher Landon, Michael Kennedy.
Plot: A mystical, ancient dagger causes a notorious serial killer to magically switch bodies with a 17-year-old girl.
Genres: Horror, Thriller, Comedy.
Actors: Vince Vaughn, Kathryn Newton, Alan Ruck, Katie Finneran, Celeste O'Connor, Misha Osherovich, Uriah Shelton, Dana Drori, Dustin Lewis, Kelly Lamor Wilson, Melissa Collazo, Nick Arapoglou, Radhesh Aria, Emily Holder, Nicholas Stargel.
Country: USA.
Language: English.
---
Enjoy Freaky 2020 720p 1080p AMZN WEBRip and download the best TV Shows and Movies in several formats with the best quality and from the bests servers here in MovieSeriesTV.net. Thank you!
Releases for Freaky 2020 720p 1080p AMZN WEBRip:
Freaky 2020 1080p AMZN WEBRip DD5.1 x265 HEVC MSTV | 2.38 GB / mkv
Freaky 2020 720p AMZN WEBRip DD5.1 x264 MSTV | 1.56 GB / mkv
Freaky 2020 WEBRip x264 ION10 | 994.53 MB / mp4
Freaky 2020 WEBRip XviD MP3 XVID | 1.23 GB / avi