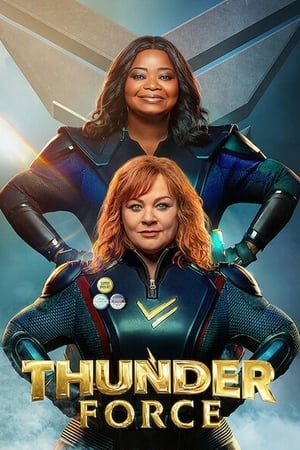 Director: Ben Falcone.
Writer: Ben Falcone (screenplay).
Plot: In a world where supervillains are commonplace, two estranged childhood best friends reunite after one devises a treatment that gives them powers to protect their city.
Genres: Action, Adventure, Comedy, Fantasy.
Country: USA. | Language: English.
Actors: Melissa McCarthy, Octavia Spencer, Jason Bateman, Bobby Cannavale, Pom Klementieff, Melissa Leo, Taylor Mosby, Marcella Lowery, Melissa Ponzio, Ben Falcone, Nate Hitpas, Jevon White, David Storrs, Kevin Dunn, Henry Bazemore Jr..
Enjoy Thunder Force 2021 720p 1080p NF WEB-DL and download the best TV Shows and Movies in several formats with the best quality and from the best servers here in MovieSeriesTV.net. Thank you!
---
Thunder Force 2021 1080p NF WEB-DL DD5.1 H265 MSTV
Full HD • 1920×1080 px / HEVC | 6 ch / AC-3 | 1.94 GB | mkv
Thunder Force 2021 720p WEB H264 NAISU
HD • 1280×720 px / AVC | 6 ch / E-AC-3 | 1.96 GB | mkv
Thunder Force 2021 WEBRip x264 ION10
SD • 720×302 px / AVC | 2 ch / AAC | 1.02 GB | mp4
Thunder Force 2021 WEBRip XviD MP3 XVID
SD • 720×302 px / MPEG-4 | 2 ch / MP3 | 1.33 GB | avi
---