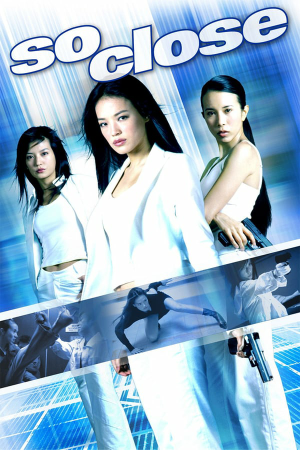 Director: Corey Yuen.
Writer: Stella Theodoraki.
Summary: Lynn and her sister Sue are computer hackers, assassins and espionage specialists who use their late father's secret satellite technology to gain an advantage over their rivals and law enforcement agents. At the beginning of the film, they infiltrate a high security building and assassinate Chow Lui, the chairman of a top company in China. After their successful mission, a police inspector named Kong Yat-hung is assigned to investigate the case and she manages to track down the assassins. In the meantime, Chow Lui's younger brother Chow Nung, who hired Lynn and Sue to kill his brother so that he can become the chairman, wants to kill the assassins to silence them. The cat-and-mouse chase becomes more complicated as both the police and the thugs are out to get Lynn and Sue.
Genres: Action, Thriller.
Country: Hong Kong. | Language: Mandarin, Cantonese, English.
Actors: Shu Qi, Zhao Wei, Karen Mok, Song Seung-heon, Michael Wai, Yasuaki Kurata, Deric Wan, Shek Sau, Josephine Lam, Ben Lam, Ricardo Mamood-Vega, May Kwong, Henry Fong Ping, Pau Hei-Ching, Kam Hing-Yin.
Enjoy So Close 2003 720p 1080p WEB-DL and download the best TV Shows and Movies in several formats with the best quality and from the best servers here in MovieSeriesTV.net. Thank you!
---
So Close 2003 CHINESE 1080p AMZN WEB-DL DD5.1 x265 HEVC MSTV | 4.75 GB / mkv
So Close 2003 CHINESE 720p AMZN WEB-DL DD5.1 x264 MSTV | 1.69 GB / mkv
So Close 2003 CHINESE WEBRip XviD MP3 MSTV | 1.28 GB / avi
---