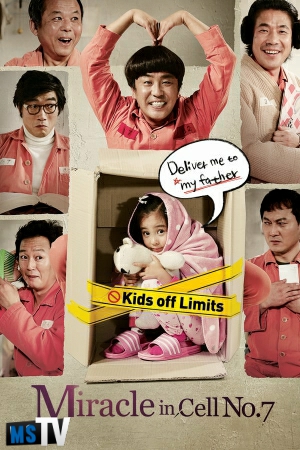 Miracle in Cell No. 7 (Korean: 7번방의 선물; RR: 7beonbangui Seonmul; lit. "A Gift from Room 7") is a 2013 South Korean comedy-drama directed by Hwan-kyung Lee (as Lee Hwan-Kyung).
Actors: Ryu Seung-ryong, Park Shin-Hye, Kal So-won, Oh Dal-su, Park Won-sang, Jeong Man-sik, Kim Jung-tae, Kim Ki-chun, Jung Jin-young, Jo Jae-yoon, Jung Han-bi, Park Gil-soo, Jo Deok-hyeon, Lee Yun-hee, Kang Ye-seo.
Plot: A story about a mentally ill man wrongfully accused of murder and his relationship with his lovingly adorable 6 year old daughter. Enjoy Miracle in Cell No 7 2013 720p 1080p BluRay and download the best TV Shows and Movies in several formats with the best quality and from the bests servers here in MovieSeriesTV.net. Thank you!
Releases for Miracle in Cell No 7 2013 720p 1080p BluRay:
Miracle in Cell No 7 2013 KOREAN 1080p BluRay DD5.1 x265 HEVC MSTV | 3.2 GB / mkv
Miracle in Cell No 7 2013 KOREAN 720p BluRay H264 AAC VXT | 1.54 GB / mp4
Miracle in Cell No 7 2013 KOREAN BRRip x264 MSTV | 1.14 GB / mp4