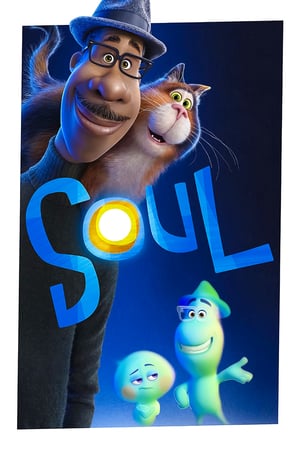 Director: Pete Docter, Kemp Powers(co-director).
Writer: Pete Docter (screenplay), Pete Docter (story), Michael Yates (story artist), Kemp Powers (screenplay), Kemp Powers (story), Mike Jones (screenplay), Mike Jones (story).
Plot: Joe Gardner is a middle school teacher with a love for jazz music. After a successful gig at the Half Note Club, he suddenly gets into an accident that separates his soul from his body and is transported to the You Seminar, a center in which souls develop and gain passions before being transported to a newborn child. Joe must enlist help from the other souls-in-training, like 22, a soul who has spent eons in the You Seminar, in order to get back to Earth.
Genres: Family, Animation, Comedy, Drama, Music, Fantasy.
Actors: Jamie Foxx, Tina Fey, Ahmir-Khalib Thompson, Phylicia Rashād, Daveed Diggs, Richard Ayoade, Graham Norton, Rachel House, Alice Braga, Angela Bassett, Fortune Feimster, Donnell Rawlings, Margo Hall, Wes Studi, Sakina Jaffrey.
Country: USA. | Language: English, Korean, Inuktitut.
Enjoy Soul 2020 720p 1080p BluRay and download the best TV Shows and Movies in several formats with the best quality and from the bests servers here in MovieSeriesTV.net. Thank you!
---
Soul 2020 1080p BluRay DD5.1 H265 MSTV
Full HD • 1920×804 px / HEVC | 6 ch / AC-3 | 1.47 GB | mkv
Soul 2020 720p BluRay H264 AAC RARBG
HD • 1280×536 px / AVC | 6 ch / AAC | 1.22 GB | mp4
Soul 2020 BDRip x264 PiGNUS
SD • 720×302 px / AVC | 2 ch / AAC | 507.58 MB | mkv
Soul 2020 BRRip XviD MP3 XVID
SD • 720×302 px / MPEG-4 | 2 ch / MP3 | 1.27 GB | avi
---